Welcome!
Welcome to our site! Hi and welcome to our site. I'm not going to bore you with how great we are and all that other stuff. We have been in the men's clothing busines for over 60 years and ad specialty and promotional products and corporate wear for over 18 years. Our customers include Darden restaurants, Bob Evans and Mimi's Cafe Restaurants, United States Steel, Boeing Aircraft, Espn Radio, Comcast Sportsnet, Purdue University, The Ohio State University, Kent State University, Lewis Univesity, Valparaiso University, Sam Houston State University, University of Minnesota,Illinois State University, Mike Ditka's Grid Iron Greats Charity. Also many Law Enforcement agencies, and many others. We are starting to get the hang of this. Our customers love our service and commitment to partnering with our customers. Thank you in advance. Fred Cicco 219-677-5800 Fred@idplus.biz
Featured Item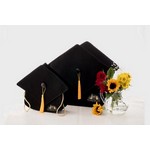 The Grad Bag Deluxe - 13"x 15"
Luxury Felt Graduation Bag. The Grad bag deluxe is a magnificent bag option for a school function event, college party celebration and educational fundraiser projects! It is the real bag with the real...

Signature Showrooms